Clear braces in Orpington
If you have always been self-conscious about your smile and feel like your teeth could be straighter, there are dental treatments that are available to help you to correct your teeth and improve your smile.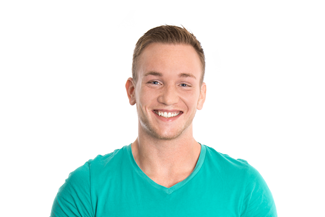 In recent years, many adult patients are opting to correct their teeth by orthodontic treatment such as braces. Commonly made out of metal braces and a wire, these braces are fixed onto your teeth and the wire gently guides your teeth into the desired position. A successful treatment, fixed braces have many benefits. As they are fixed, they provide excellent control of your teeth and you can rest assured that your teeth are moving due to the brackets and the wires. They are also usually tightened by your dentist every few appointments, which provides further reassurance that your teeth are moving gradually. Made from metal, fixed braces are also strong and durable so they are not likely to break and will not show any sign of discolouration due to any food or drink consumption.
There are also other orthodontic treatments available for our patients who would rather not have fixed metal braces. If you are one of these individuals and are looking for another option, why not consider clear braces in Orpington?
Clear braces
Clear braces and clear aligners are now a popular choice especially for adults as they are less noticeable when compared to the traditional fixed braces. Clear braces are similar to metal braces, however the brackets are clear. They also do an efficient job in straightening crooked or crowded teeth. An example of this type of orthodontic treatment is an appliance called the Damon brace. Damon braces are unobtrusive and discreet in  straightening patients' teeth, they are stain resistant, so the braces will remain discreet throughout treatment.
If you still have doubts about fixed braces and would prefer to have a treatment which requires more flexibility, Orpington Dental Practice offers clear braces in Orpington known as Invisalign.
How does Invisalign work?
Invisalign braces provide our patients with the option to straighten their teeth without the need to invest in fixed braces. Known to sometimes have a shorter treatment time in comparison to fixed braces, Invisalgn treatment uses clear plastic aligners which are customised for each of our patients by obtaining a 3D scan of their teeth and mouth. Our patients are then required to change these customised aligners, usually every two weeks, in order to move the teeth gradually into their desired position. This is a favourable option for our patients who may want to straighten their teeth, but still want to have the flexibility to remove the aligners for special occasions such as weddings. Another benefit of Invisalign is that you can take out the aligners to eat, which means you can maintain a good oral hygiene regime by cleaning and flossing your teeth regularly. However it is important that patients remember to wear their aligners for at least 20 hours a day to ensure the best results.
So if you are ever considering a treatment such as clear braces in Orpington, our practice will be able to offer you an effective treatment in correcting your teeth and improving your smile.