Disguise chips and imperfections with porcelain veneers
At Orpington Dental we know that everybody is striving to get a smile that they love. Having an even smile with no chips, no cracks and no gaps is considered to be the sought after look, which is why we provide treatment to help disguise any chips, cracks or gaps that people may have. A lot of people believe that once they have chipped a tooth or cracked it in an accident there is no way to resolve it, and they will be stuck with a damaged tooth for the rest of their life. This can not only leave people feeling incredibly insecure, but uncomfortable as well, as their tongue will have to adapt to the jaggedness of their damaged tooth. This can also make eating and speaking difficult sometimes too. If you have a damaged tooth or an uneven smile that you wish to change, it may be time to book a consultation appointment with one of our practitioners to discuss getting porcelain veneers Orpington. They will be able to tell you whether this treatment is suitable for your circumstances and answer any questions that you might have about the procedure too.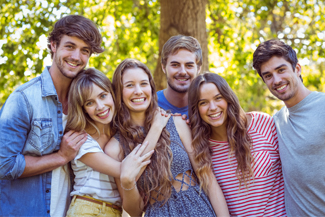 Designed to look and feel like your original teeth
Many people worry that once they get porcelain veneers Orpington that everyone will notice that they have undergone dental treatment. In reality this is not likely, as they are made to look and feel exactly like your original teeth. In circumstances where you are only having one veneer fitted to conceal a chipped tooth, it will be matched as closely as possible to the shade of your other teeth to make sure that it blends in as successfully as possible. In some cases people wish to get a full set instead of just one veneer, which gives your smile a more complete, even appearance. When you get a whole set, each veneer is individually shaped and designed to make all of your teeth appear aligned, even and matched as much as possible in terms of overall shape and size. This treatment is also extremely durable. Once you have had your treatment your practitioner will explain how to take care of your new veneers properly. If they are looked after well they could last you for up to ten years, making them a cost effective treatment to have too.
An alternative treatment when braces cannot help
People sometimes think that porcelain veneers Orpington are only for people who have chipped or cracked teeth. This is not the case at all, and quite often people have tiny gaps between their teeth that cannot be closed up through the use of a straightening appliance for whatever reason. In these cases a full set of veneers can be used to disguise these spaces, giving your smile a completely aligned, even looking appearance with no unwanted voids. Sometimes having gaps between your teeth can lead to insecurities about your smile, leaving you feeling reluctant to smile in public or in front of anyone at all. This can really impact your self-esteem in the long run and can even end up with you isolating yourself from certain situations.