Invisalign versus Six Month Smiles braces in Orpington
Are you hesitant to straighten your teeth as an adult because you believe that the only option is metal braces? Healthy teeth can be treated for teeth straightening at any age. Treatment more commonly begins while a child is growing, but that doesn't mean that adults can not enjoy the benefits of teeth straightening.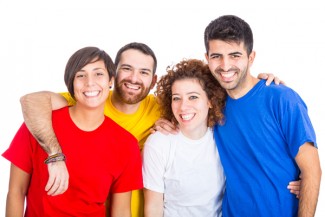 At Orpington Dental in Orpington, our dentists offer discreet teeth straightening options designed for adults, who find the thought of noticeable metal braces unappealing. To help adults achieve more attractive smiles without the use of traditional braces, we offer Invisalign and Six Month Smiles braces.
What's the difference?
The main difference between Invisalign and Six Month Smiles braces in Orpington is that the latter integrates a traditional clear bracket and elastic system into its design that helps your teeth move into their right position. Invisalign instead consists of a series of transparent, removable aligners, which gradually move teeth into place. Both treatments are more comfortable and aesthetically pleasing than metal braces.
In terms of treatment length, Six Month Smiles braces work much quicker than Invisalign, because they do not require as many visits to the dentist. Six Month Smiles braces are designed to correct moderate cosmetic issues in a short period of time. Six Month Smiles treatment targets only the teeth which are visible when you smile.
On the other hand, the Invisalign system has the ability to move the posterior teeth and fix a wider range of dental problems. Since the braces are removable, this allows you to maintain better oral hygiene without compromising your daily routine and comfort. Despite the fact that Invisalign aligners have to be worn at least 22 hours a day for guaranteed results, it may be the ideal solution for better oral health over a longer period of time.
Find out more
If you are an adult with crooked or misaligned teeth but do not want to wear braces to achieve straighter teeth, schedule a consultation with one of our dentists at Orpington Dental. Our dental practice offers both Invisalign and Six Month Smiles braces in Orpington.