Missing teeth are more than just unsightly
Losing your teeth can cause issues with your appearance and can also create difficulties with everyday activities such as eating and speaking. If you are not happy with how you look, this knocks your confidence and enjoyment of social interactions. In the past, replacing teeth used to involve removeable appliances that restricted what foods you could eat. They were also often wobbly, inconvenient to clean or uncomfortable. Fortunately, at Orpington Dental Care in Orpington, dental implants are an established technique for replacing teeth. We are proud to have used this technology to restore quality of life for hundreds of patients.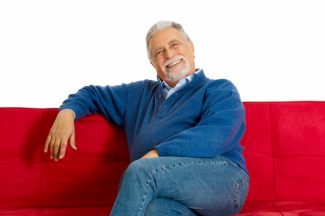 A flexible option
Dental implants work in the same way as a natural tooth root and can be used as a secure base for one tooth, several teeth or a whole set. We are experienced in fitting dental implants in Orpington and will discuss your needs so that, whatever the problem, we can find the best solution. In some cases, it is better to remove some teeth if they are in poor condition but we would always try to preserve existing teeth if possible. To replace a full set, you will usually have four implants. The implants are rod-shaped metal screws which are inserted into the jaw during a minor operation. When the bones and blood vessels of the jaw have meshed around the metal implants and stabilised them, a full denture can be permanently fixed in place.
What are the benefits?
When you choose dental implants in Orpington, you are opting for a secure, permanent solution. Once they are fitted, your replacement teeth will feel just like natural ones so you can eat your favourite meals again without concern. Another major advantage is that implants stimulate the bones of the jaw in the same way as natural teeth when you bite and chew. This keeps the tissues healthy, as the jawbone does not shrink back as they do if you have gaps or use dentures. There is also the visible benefit of having a smile you can be proud of again.
Restore your smile and quality of life and talk to us about how having dental implants in Orpington could help you.