If you've lost one or more of your natural teeth, you'll know how distressing an experience it can be. We see patients who have lost teeth for a variety of reasons, from tooth decay or gum disease to accident or injury.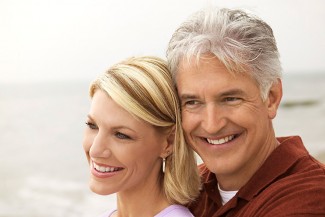 Whatever the cause, it can be very traumatic and can lead you to be embarrassed about smiling in public. In addition, it can cause a range of other health problems, from difficulties in maintaining a healthy diet because many foods are suddenly off the menu to further dental health problems as your other teeth move out of position into any gaps, while gums and bone start to recede.
Fortunately, we offer a wide range of options to replace missing teeth. The best treatment for you will depend on your individual needs and circumstances, which we'll discuss with you at an initial consultation. Here are some of the choices:
Bridges
Dental bridges can replace one or two adjacent missing teeth. They are usually made of a precious metal base and may also contain porcelain to make them look natural. Bridges usually use surrounding teeth for support, so these teeth will need to be strong and healthy. They may be attached using crowns or wings on supporting teeth, with a false tooth or teeth in between. Sometimes, bridges are attached to dental implants.
Dentures
Dentures may be fixed with dental implants or be removable. Partial dentures replace a few missing teeth while full dentures replace an entire arch (jaw) worth of teeth. Dentures are made from hard-wearing material and look a lot like natural teeth and gums.
Dental implants
Dental implants are artificial tooth roots made of titanium. They are placed directly in the jawbone, where they can support replacement teeth in the form of crowns, bridges or secured dentures. Unlike other tooth replacement options, implants support bone growth, helping to prevent bone loss.