Straightening your teeth has never been easier
If you'd like to straighten your teeth, Invisalign braces in Orpington are easy to use and manage, have short treatment times and are very discreet. Think you'll have to be able to remove your braces sometimes? Invisalign gives you that option. This is a teeth-straightening system made to fit your lifestyle.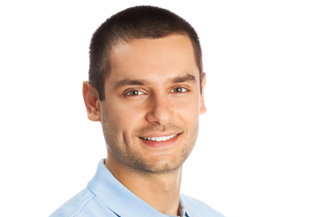 Does the idea of wearing metal braces make you cringe?
Traditional metal braces do a great job, but their appearance isn't great. Many people would prefer not to straighten their teeth at all when faced with metal braces as the only option. This is one reason why Invisalign aligners are so popular. They are made of a discreet transparent plastic.
Do you want to be able to make your teeth straighter without anyone noticing?
The transparent plastic used for Invisalign braces in Orpington is thin. The aligners are almost invisible once you've put them over your teeth. This means you can wear them out in public and nobody will be able to see your braces. Great news for adults who don't feel comfortable with wearing obtrusive train track braces for months or years on end. Invisalign braces offer a truly modern way to straighten your teeth.
Treatment times are usually shorter than traditional braces in Orpington
The advanced technology behind the Invisalign aligner system means your teeth can be straightened in a relatively short time when compared to traditional braces. You can expect to wear your aligners for around a year. Everyone is different, so your treatment may take a shorter or longer time, depending on your tooth straightening needs.
Want to know how Invisalign works?
The custom-made aligners fit over your teeth. You'll have a series of aligners to wear throughout your treatment. Each set in the series should be worn for 7-10 days. They must be worn in the right order. The aligners move your teeth by applying pressure to them. When you follow the instructions your dentist gives you, and wear the aligners for 22 hours per day, you will have a beautifully straight smile at the end of your treatment.
Interested in Invisalign braces in Orpington? Give us a call at Orpington Dental Care to find out more.