Trust teeth whitening in Orpington for a noticeably brighter smile
Brighten up your life
Smile, and the whole world smiles with you. This is something that we believe here at Orpington Dental, although we also understand that some may need teeth whitening Orpington as they may find smiling and exposing their teeth to be embarrassing due to having visible marks, stains or yellowed enamel.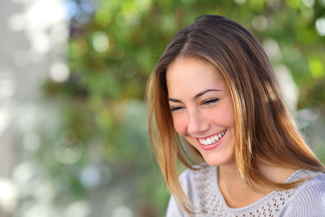 Having dental staining is not uncommon in the slightest, and our highly proficient team of cosmetic professionals can help treat anyone who needs it.
What is cosmetic whitening?
Increasing numbers of patients of all ages are getting in touch with us at Orpington Dental to discuss their options for teeth whitening Orpington.
Of all the cosmetic dental treatments that we offer, teeth whitening is by far one of our most popular because of its non-invasive nature and the fact that visible results can be achieved in just one sitting, depending on the type of teeth whitening a patient chooses.
By using a hydrogen peroxide whitening gel and a custom-made dental retainer, we can visibly brighten the shade of your enamel (outermost layer of the tooth) either within our practice in one sitting or from home through one of our at-home kits.
What can cosmetic whitening help with?
There are a great number of causes for dental staining, which is why the first thing we do here at Orpington Dental is work out the type of staining that each patient has so that we can determine which form of teeth whitening Orpington is suitable for them.
Intrinsic staining is when the inside of your tooth has become faded or grey – either through dental trauma, certain medications or ageing – and typically requires more extensive dental treatments to solve than cosmetic whitenings such as veneers or crowns.
Extrinsic staining is the most common form of dental staining, which occurs when the outermost layer of your teeth are stained, yellowed or discoloured. As this form of staining only primarily affects the visible layer of the tooth, they are far easier to treat through traditional cosmetic whitening means.
Extrinsic stains can be caused by long-term lifestyle choices or habits such as smoking or favouring dark-coloured drinks like red wine, cola or black coffees or teas. Additionally, ageing can also cause your enamel to become duller or yellow in colour.
How can I get teeth whitening?
Getting teeth-whitening treatment from us at Orpington Dental is a quick and easy process that begins with a consultation appointment to allow us to assess the type of staining you have. When treating extrinsic stains, we can offer patients two options – power whitening and home whitening.
Power whitening is a great option for patients who seek immediate results as it can achieve a visibly brighter smile in just an hour. We carry out the whitening process at our practice, using a protective gum shield, a whitening gel and a UV lamp to speed up the whitening.
Home whitening involves making a custom-fitting gum shield for patients to take home with them and placing a whitening gel into the shield periodically over two weeks or more for gradually building results.